Common Kitchen Design Terminology Explained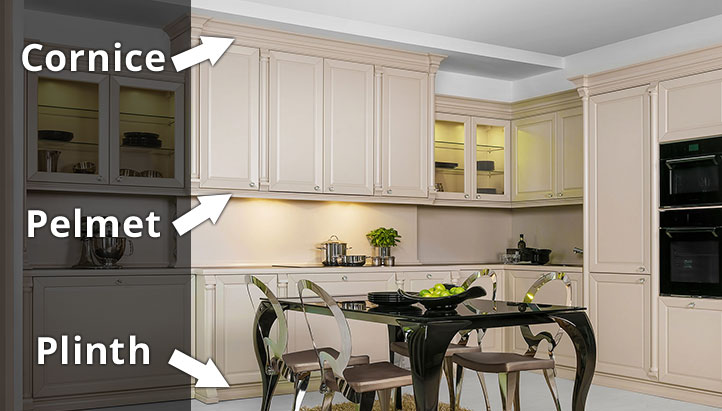 Looking for a new kitchen can be hard work, and if you've spent any length of time looking these up online you are probably baffled by all the kitchen design terminology us designers use. So, in this article we are going to be clearing up the meaning of some of the most common phrases that kitchen designers use.
Dual Fuel
This term is usually used when referring to range cookers. A dual fuel cooker consists of an electric oven and a gas hob – meaning there are two types of fuel used – Electric and Gas, hence the term "duel fuel".
Steam Oven
Steam Ovens basically use steam to cook the food. This is done by filling the ovens "reservoir" with water, the heat from the oven then turns the water into steam that cooks the food. Food cooked in a steam oven will have more moisture and will contain more vitamins and minerals than food cooked by boiling.
Handleless
As the name suggests, this usually refers to doors without handles. There are two main ways you can have doors without handles. The first is "push catches", these allow the door to be opened and closed by simply pushing the door. The second is "integrated handles", these are handles that are actually cut out of the door itself. These can also be referred to as "J profile" handles because of their appearance.
If you'd like to learn more about handleless kitchens, check out our page here where we explain the pros and cons to handleless kitchen cabinets and show some of the latest designs.
Plinth
Plinths are long pieces of panelling placed at the bottom of units to cover up the adjustable legs.
Glazed doors/units
Glazed doors will have one or more glass panels that allows you to see into the cabinet. This is commonly used for the cabinets you store your glass, china or ornaments in for display purposes. Glazed doors are common in Traditional Kitchens.
Soft Close
Soft close hinges basically slow down the closing process of the cabinet door, meaning even the most heavy-handed people can close the door softly (and quietly!).
Cornice
A cornice is a "trim" placed at the top of your wall units & tall units for decorative purposes. It is most common in traditional kitchens and shaker kitchens.
Pelmet
A Pelmet is a "trim" placed at the bottom of your wall units, similar to a cornice this is also used for decorative purposes. These are also a great way to hide any downlight fixings attached to the bottom of wall units.
Integrated Appliance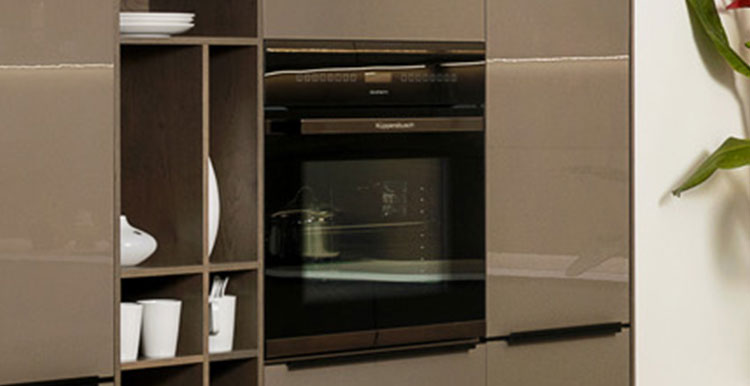 Integrated appliances have been constructed especially by the manufacturer to have a unit door attached to the front of it. This makes the whole kitchen look neat and tidy and is also a great way to save space. Some of the most common integrated appliances include: washing machines, dishwashers, fridge freezers and more.
Splashback
A splashback is a piece of material placed behind the hob to protect the wall, this will usually be made of stainless steel, glass or the material used for the countertops. Usually the splashback will stretch from the bottom of the extractor fan to the top of the worktop.
Shaker Doors
A shaker door is composed of five pieces of wood. Four for the square frame, and one for the flat center panel. The enduring design of a shaker door is clean and easy on the eye.
Kitchen Island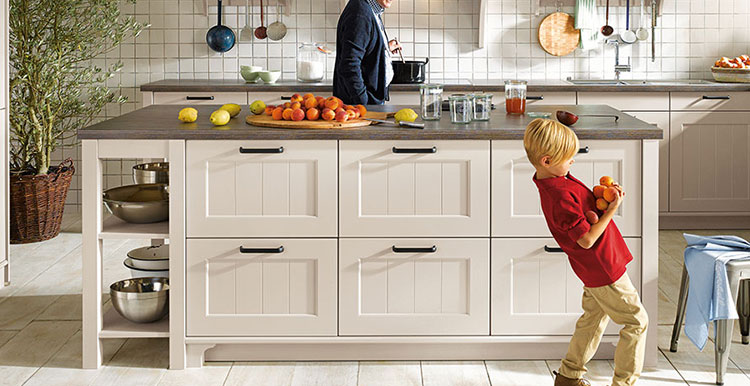 A kitchen island is a freestanding piece of kitchen furniture usually situated in the middle of the room. With kitchen islands, the possibilities are endless – they are completely customisable based on your needs and available space – most commonly though, kitchen islands will feature some of the following:
Hobs
Sink
Seating areas
Storage areas
Built-in appliances and more.
They are also a great way to give you more countertop space.
Peninsula
Put simply, a peninsula is a connected kitchen island. Having a peninsula will create a U-shaped kitchen, and is a great way to divide the room from the dining/living room.
CAD
CAD (Computer Aided Design) is the technical software we use to create plans and designs for our customers kitchens.
Concealed Hinge
A concealed hinge is a hinge attaching the door to the cabinet on the inside, so that it is not visible from the front of the cabinet.
Cut Outs
Cut outs are what we call the holes cut into the work surfaces to house sinks and integrated appliances.
Butcher's Block
A butcher's block is a solid section of your worktop that is used as a place to chop food. They are usually made of wood and are using in an island.
Kitchen Work Triangle
The kitchen work triangle is a series of specific guidelines most kitchen designers follow when designing a kitchen. The key three aspects are the distance between the cooker, sink and refrigerator. By keeping them in good proximity of each other we can create an efficient kitchen layout that is easy to move around and efficient to use.
Pantry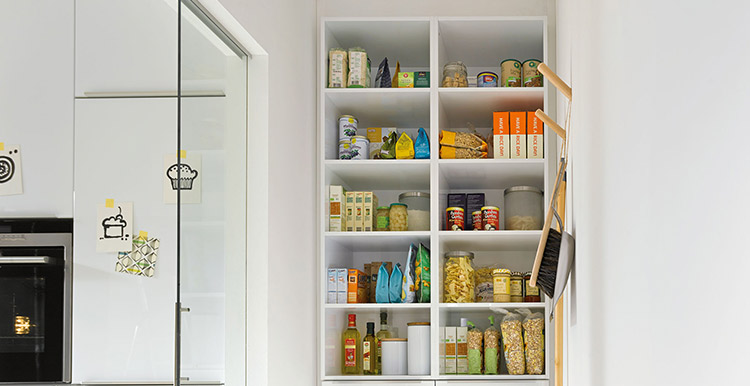 A pantry is a cupboard (or small room) where non-perishable food is stored. Foods such as pasta, tinned food, dried fruit, cereals and baking supplies are all often kept in a pantry.
Larder
A larder (similar to a pantry) is a cupboard or small room where perishable foods are stored. Larders are cooled by the use of cold materials, like marble or slate and so are a great place for storing food that go off such as eggs, tomatoes, cheese and bananas.
Composite Worktops
A "composite worktop" or "composite" is made from two or more materials. Combining the benefits of various materials together to create a more durable and versatile worktop. It is usually cost effective, strong, durable and hygienic.

Appliance Garage
An appliance garage is a small kitchen cabinet dedicated to small appliances. They often have a garage style door, making them easy to access, whilst remaining hidden from view when not in use. Items commonly stored in appliance garages include blenders, coffee machines, toasters, cooking tools and more. They are a great way for people who hate disorder to keep kitchen clutter to a minimum.
End panel
An end panel is a decorative surface piece placed where there isn't a wall to hide the side of the cabinet frame. They have no structural purpose and are purely used for decoration. Usually these will have the same style of inlay pattern as the cabinet doors.
Galley Kitchen
A Galley Kitchen features two counters that run along parallel walls. This design is perfect for those with a smaller kitchen as it creates an efficient workspace in a smaller area. One downside to Galley Kitchens is it does create a narrow path straight through the middle of the kitchen – which can be quite problematic if you're a keen cook.
Pilaster
A pilaster is a decorative support leg at the end of a run of cabinets, or at the corners of a kitchen island. They have no structural purpose but are great at making your kitchen look more traditional.
Kitchen Plan Abbreviations
Some kitchen planners will mention certain abbreviations during conversation, which to the non-kitchen designer might sound confusing. So here's the one's it's worth knowing:
RAD
RAD is an abbreviation for radiator.
KD
KD is an abbreviation for "Knock Down" cabinets. These cabinets come unassembled, making them cheaper to deliver. Other names for knock down cabinets include: RTA (ready-to-assemble), kit furniture and flat pack.
SSS
SSS is an abbreviation for "Stainless Steel Sink" used by many kitchen designers. These sinks are incredibly popular due to their resistance to: rust, stains and cracks.
TG
TG is an abbreviation for "tongue and groove", which is a method used to fit wood together. This method is commonly used throughout the kitchen and is especially popular on: kitchen doors, kitchen walls and kitchen splashbacks.
AL
AL is an abbreviation for "aluminium", which is a commonly used material throughout the kitchen, in particular the kitchen cabinets.
MDF
MDF stands for "medium density fibreboard", which is a man-made material created by combining wood fibres and resin. It's often used for kitchen: cabinets, splashbacks, worktops and more.
adj
adj stands for "adjustable" and is a commonly used abbreviation when referring to shelves, bar stools, chairs, racks, drawer organisers etc.
RH
RH is an acronym for "right hand". In the context of kitchen design, it means that the kitchen unit has it's hinges on the right side.
LH
LH is an acronym for "left hand". In the context of kitchen design, it means that the kitchen unit has it's hinges on the left side.
PF
PF is an acronym for "post form worktop" or "post form countertop". This means that the worktop's core had its edge profile carved out before being wrapped in laminate, giving it a smooth finish. The term "post form" simply means it had its shape formed post (before) being wrapped in laminate.
Need something else explained?
We hope we've covered the most popular kitchen design terms here but this is a growing list we plan on building upon. So, if you've got anything you want explained by one of our kitchen designers, ask away on twitter (@BentonsKitchens) and we'll get back to you with a description.
Need More Kitchen Inspiration?
Have a read through our other expert guides: