What is a Traditional Kitchen?
Traditional Kitchens are classy, elegant kitchens that have truly stood the test of time.
These kitchens date back to a time when quality and class were the priority. But it isn't just their historic past that makes them so charming.
They are warm, homely and above all else – the sort of place you wouldn't mind losing yourself in for a good few hours.
If you like class, sophistication and decoration – traditional kitchens might be for you.
But what constitutes a traditional kitchen?
Design
Unlike contemporary kitchens, traditional kitchens are all about the small details and individual character.
This focus on character means using more natural materials like wood and very few man made ones.
The wood is often painted with muted colours to appear aged and welcoming.
You will also find it common for traditional kitchen floors to be made from natural materials too. Most commonly stained hardwood and tile.
One of the core fundamentals of a traditional kitchen is the raised panel cabinets which adds dimension and detail to the kitchen.
Crown molding can also be applied throughout the kitchen to add another layer of depth and match the overall style of the cabinets.
Use of ornaments and decorations are very common in traditional kitchens, and help give it that "a family lives here" feeling.
The Benefits of a Traditional Kitchen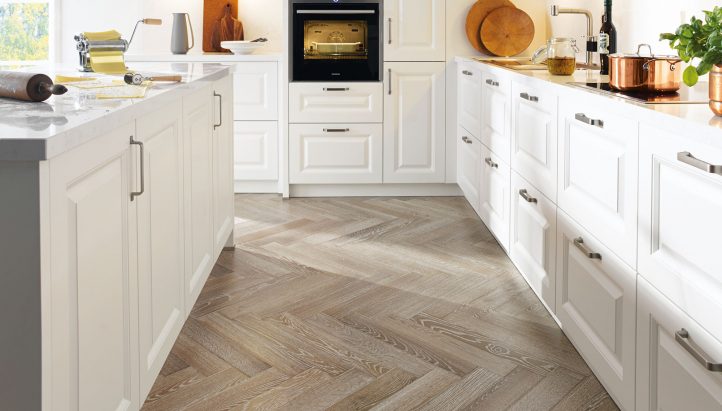 As the name suggests traditional kitchens have been around for a long time, and they're not going anywhere any time soon.
People are often drawn to these kitchens because of the class they represent.
But it's not just that…
They aren't going out of fashion
Kitchen design trends come and go, but traditional kitchens will always remain firmly planted as a popular kitchen style.
They're warm and welcoming
Everything about a traditional kitchen is warm and welcoming. From the natural materials used throughout to the soft, muted colour palettes – you can guarantee that your friends and family will feel comfortable in a traditional kitchen.
Some examples of popular traditional kitchens are:
Traditional Kitchen Image Gallery
Here's what luxury traditional kitchens look like (click image to enlarge):