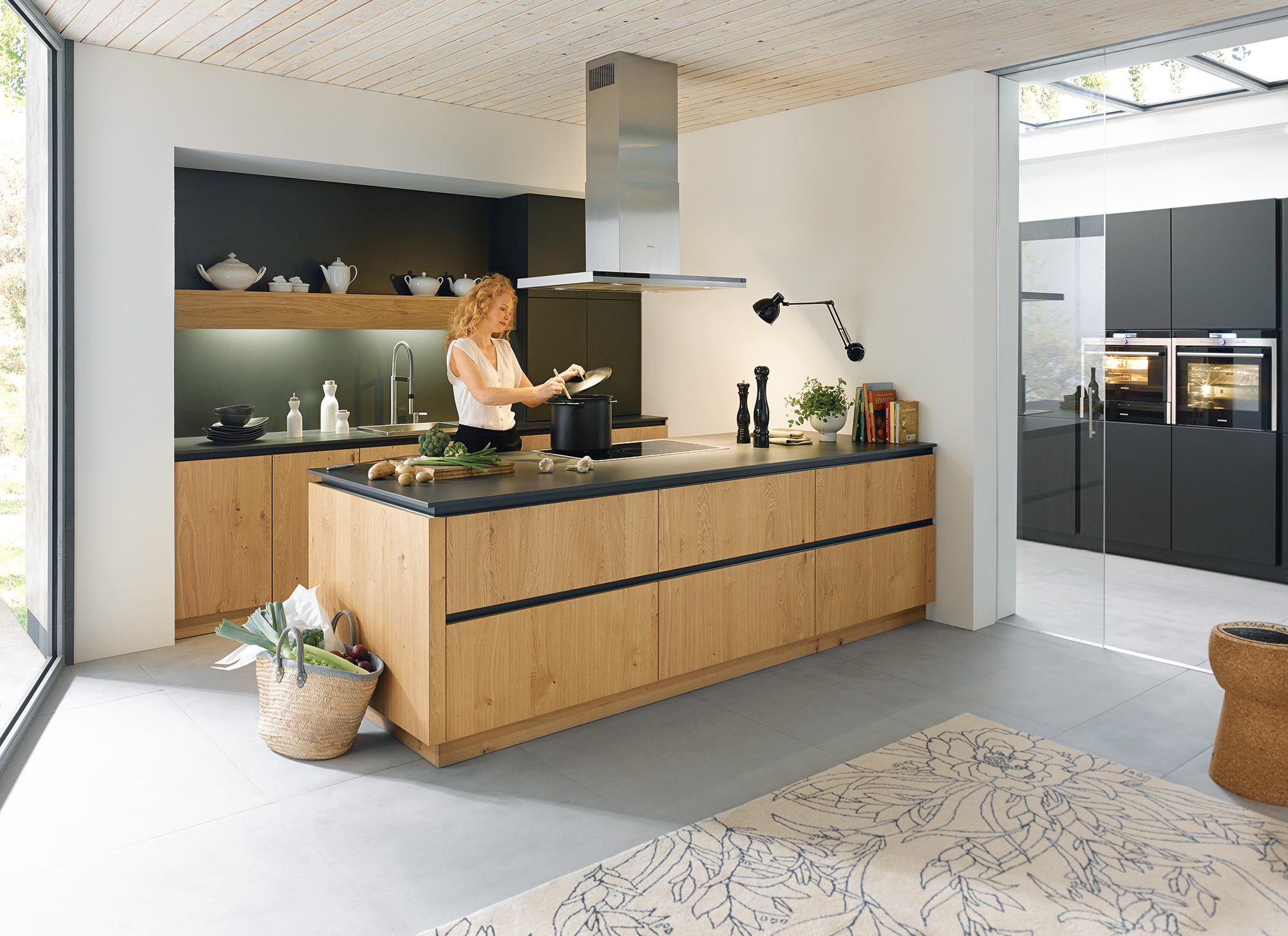 What is a Shaker Kitchen? Design, Cabinets, Doors & Inspiration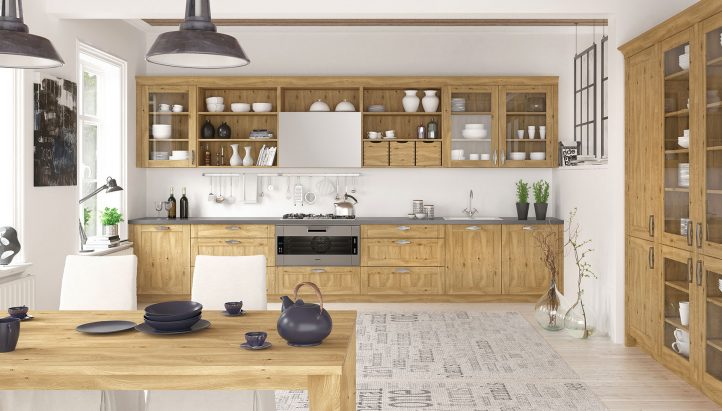 In the 1700s, the Shakers made their mark on kitchen design with some strong ideas. Their main aim was to create an ordered, practical kitchen with everything in its right place. They cannot ever have expected that their designs and ethos would still resonate with kitchen designers today.
So, what is a Shaker kitchen and what can we expect to see from these designs?
The Shaker Kitchen Design
There are a few basic principles for an authentic Shaker kitchen design.
The first is the idea of minimalist designs and clean lines – which is part of the reason the Shaker style remains so popular. The cabinets have a square frame and panel on the front, which is then repeated across the room. This minimalist approach separates the style from other old-fashioned designs.
Some homeowners will decide to keep the wood-grain look on the doors, but many prefer to opt for painted cabinets instead. These colours are often muted, with blues, whites and creams. But, you can add a more contemporary flair.
The Shaker Kitchen Cabinets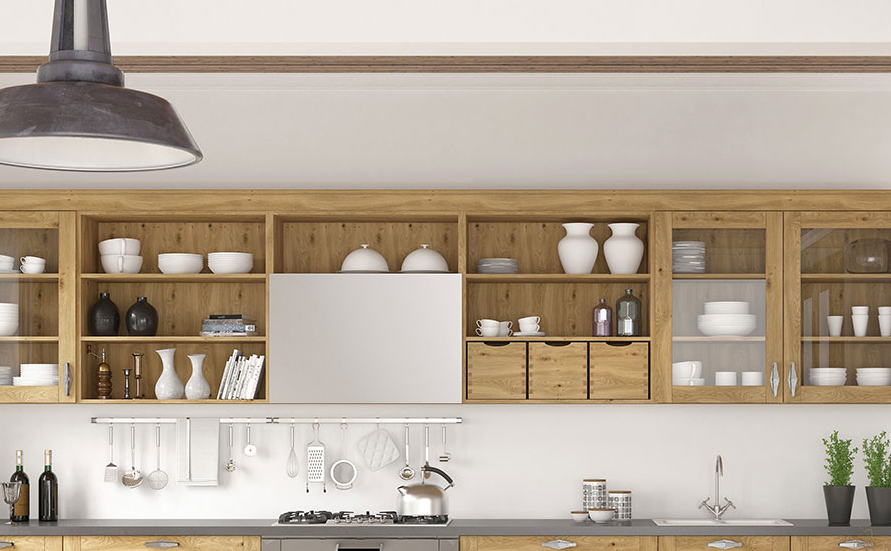 This Shaker premise of functionality would not work without the right cabinets. Every item in the home must have a practical function, and this applies to the storage space too.
The cabinets and cupboards in a Shaker kitchen are the star of the show for two reasons.
The first is the look, which is surprising modern for a trend that originated from an 18th century religion.
The second is the quality of the craftsmanship and materials. Many are created from the finest cherry and maple woods.
The Benefits Of A Shaker Kitchen
1) A timeless look. A Shaker kitchen offers a homely feel and doesn't feel ultra-modern compared to some contemporary kitchens. Yet, it is unlikely to go out of fashion. This is important for the value of the home.
2) There is no excuse for an untidy kitchen ever again. If there is a cabinet for everything, and every item has its place, then the kitchen should remain tidy and inviting. It should also be easy to find appliances, utensils and other items.
3) These kitchens are built to last. Finally, that top craftsmanship and use of materials has many long-term benefits. These cabinets should remain functional and beautiful for a long time to come.
Some examples of popular Shaker kitchens are:
Frequently Asked Questions
Why is it called a Shaker kitchen?
They are called shaker kitchens because their design is heavily based on the cabinetry style invented by the The United Society of Believers in Christ's Second Appearing, who were also known as "The Shakers" due to their energetic worship rituals. During worship, shakers would: dance, sing, shake, shout, march, turn, twitch etc. – Resulting in much ridicule and disapproval from others. With that being said, one thing they were almost never mocked for is their craftsmanship when creating furniture, as they took their work seriously and regarded it as part of their religion. We believe this to be the key reason why their designs have stood the test of time – Their: belief, faith, dedication and hard work resulted in some truly outstanding designs that continue to inspire and enrich kitchens all across the world to this very day.
Are Shaker kitchens old fashioned?
The Shaker design dates back to the 1700s, which means it's certainly considered to be "old-fashioned". However, one thing it definitely isn't is "outdated" as the design is more popular and sought after now than it's ever been before.
Are Shaker cabinets good quality?
Out of all the kitchen styles that have come and gone throughout the years, Shaker kitchens might just be the best when it comes to cabinet quality. We have to bear in mind that the original designers of Shaker kitchens (known as the The United Society of Believers in Christ's Second Appearing), literally treated their craftsmanship as part of their religion. And it's that same quality, strength and attention to detail that the original Shakers gave their cabinets that's inspired the ones you get today from any good Shaker kitchen designer.
Are Shaker kitchens more expensive?
Shaker kitchens aren't as expensive as most people imagine due to their relatively simple design. They are also very well built, which makes them more affordable when compared to certain other types of kitchen that'll need repairing or replacing a lot quicker.
Shaker Kitchen Inspiration
Take a look through some of these Shaker kitchens for inspiration (click on the image below to enlarge):
We hope this has helped inform and inspire you about Shaker kitchens, if you'd like to stay up to date with all our latest Shaker kitchens, make sure to follow our Shaker Kitchens Pinterest board and also follow us on social media for the latest updates. Thanks for stopping by and feel free to pop into one of our local kitchen showrooms if you'd like to see Shaker kitchens in person!