Here's a selection of luxury modern kitchen designs we have available for your home in 2023. No matter what size kitchen area or preferences you have - you're sure to find that ideal kitchen here at Bentons Kitchens. We've got a huge selection for you to choose from, in every colour imaginable. We've also got gloss or matt finishes, depending on your requirements.
The modern design of these kitchens feature some truly desirable elements; such as handleless doors, integrated appliances and pull out cabinet drawers. Looking through kitchen images is great for getting ideas and inspiration, but doesn't come close to the insights you'll gain by looking around them in person. Why not book a free consultation at one of our many kitchen showrooms and take a look at the ones we have on display? There's no obligation and you'll be able to get a true sense and feel of how the different kitchen designs would look in your home.
Book Your FREE Consultation Today
Kitchen Islands
If you're looking for modern kitchen island ideas, this photo gallery is sure to inspire! We have compiled our best set of modern/contemporary kitchen island images into one place for easy navigation. At Bentons Kitchens, we absolutely love kitchen islands - not just for their aesthetic appeal, but also for their functional use in the modern day home.
Families with a kitchen island benefit from having extra worktop space (ideal for those who do a lot of cooking), extra storage space (giving the kitchen a constant uncluttered look) and extra dining space (perfect for entertaining guests and spending time with your spouse). Whether you're looking for images of kitchen islands with seating, white kitchen islands, kitchen islands with breakfast bars, small kitchen island ideas or anything else - these gorgeous designs are sure to get the creative juices flowing!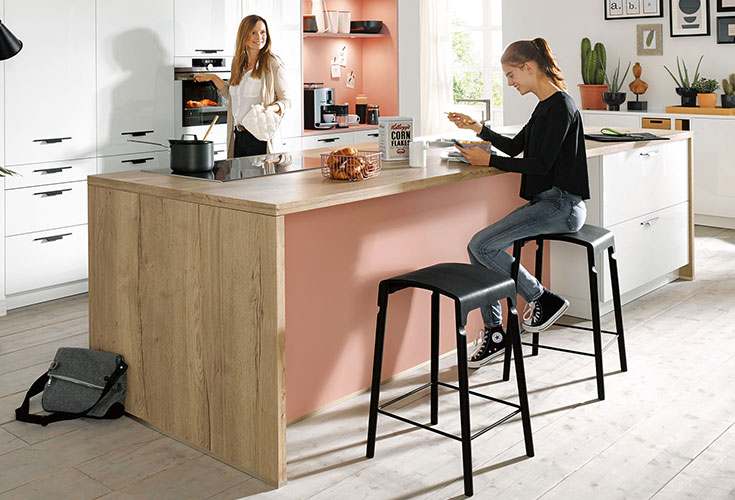 Kitchen Tables
The kitchen table functions as the heart of the home for many families across the UK. It's the place where the whole family gets together to enjoy good food and share special moments. If you're looking for kitchen table ideas to inspire your kitchen design, we've got just the thing for you!
We are passionate about great kitchen tables and have compiled a gallery below featuring our best kitchen table images. From white kitchen tables to kitchen tables with a bench and everything in between - you'll find great inspiration in our gallery. Take a look through and see which table you find most appealing.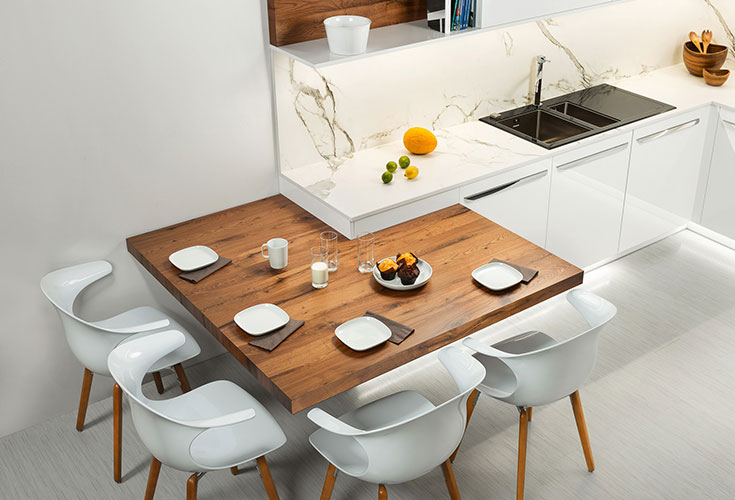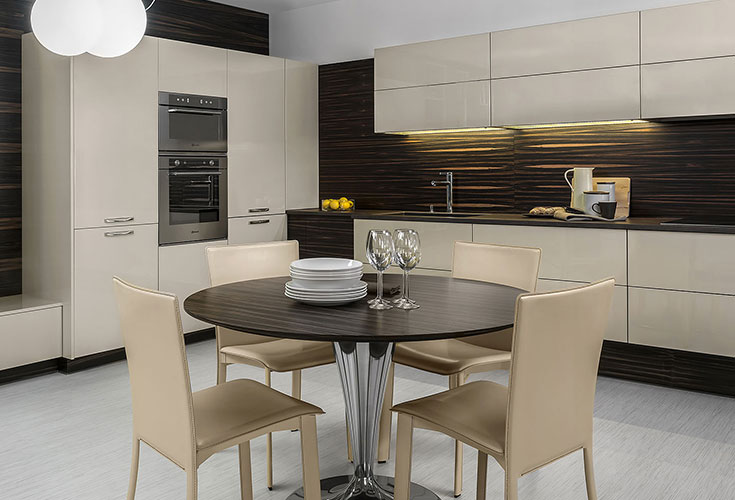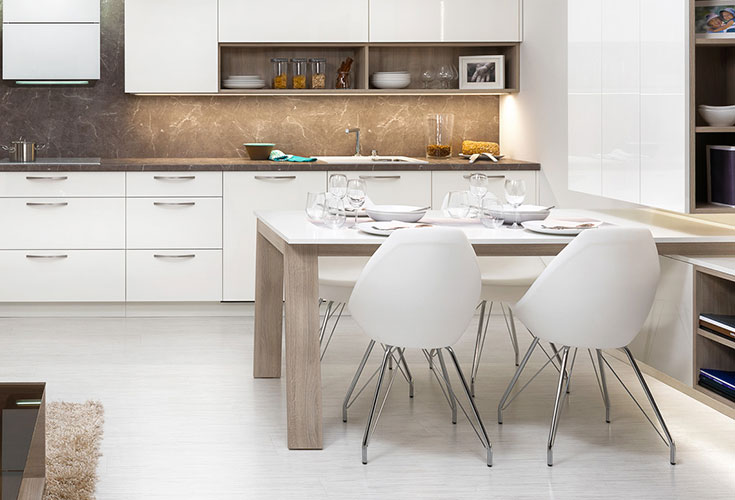 Kitchen Cabinets
If you love the clean, sleek, minimalistic design of modern kitchen cabinets, we have the perfect selection of images for you! This gallery is great for anyone looking for kitchen cabinet inspiration and ideas - take a look through and see which style would look best in your home. We've got images of kitchen cabinets in grey, black, white, solid wood, cream, red, blue, yellow, pink, green and more. Many of our cabinets feature much desired modern technology such as handleless doors, LED lighting, soft close hinges as well as built-in appliances that make your kitchen look showroom worthy!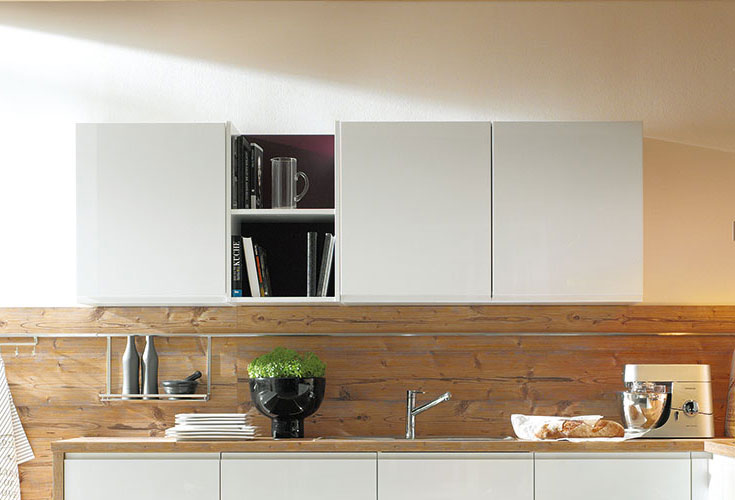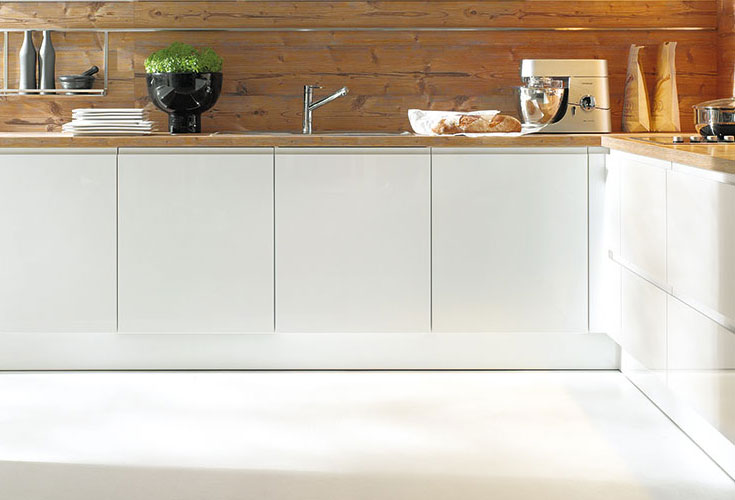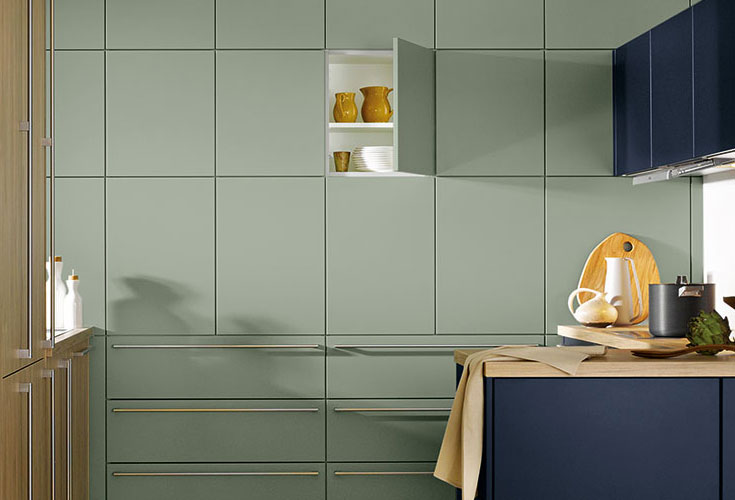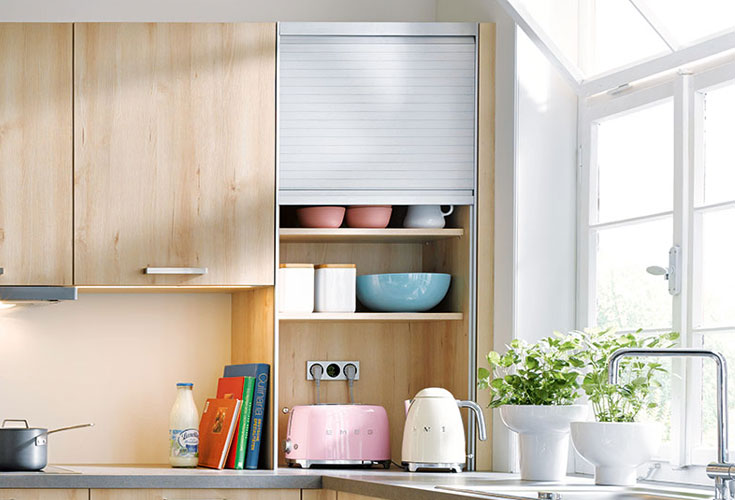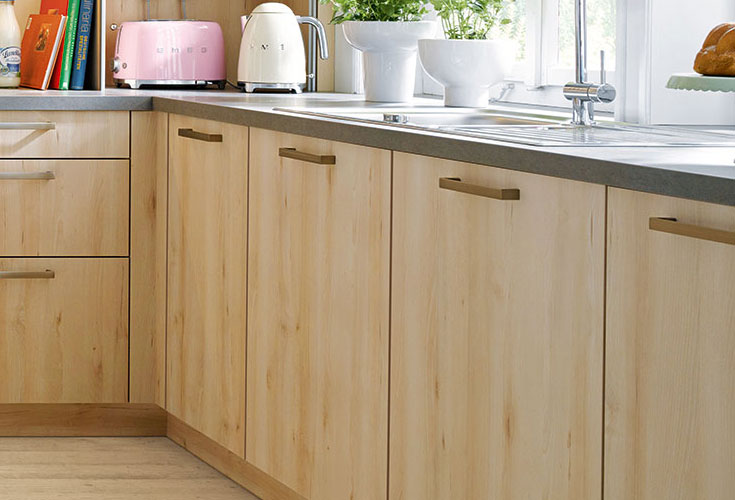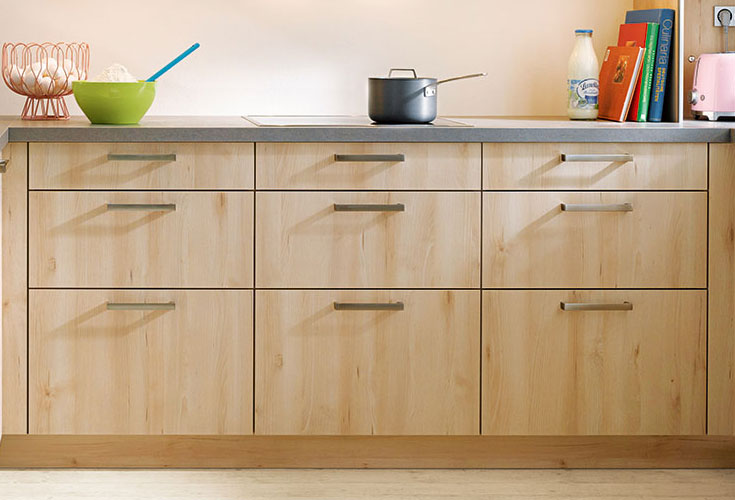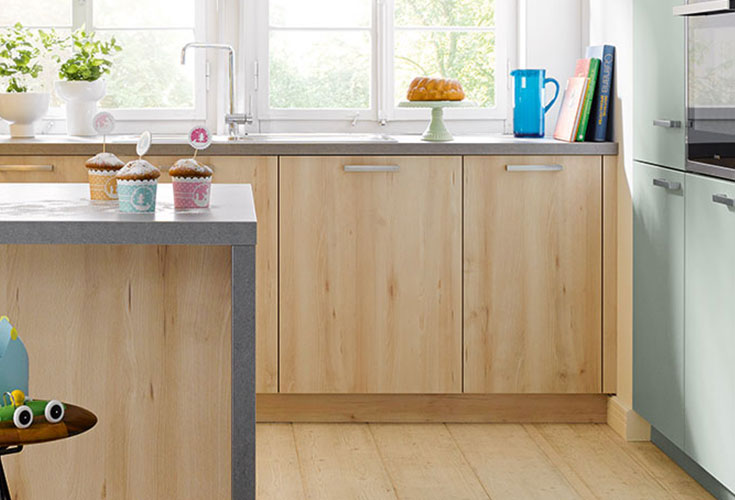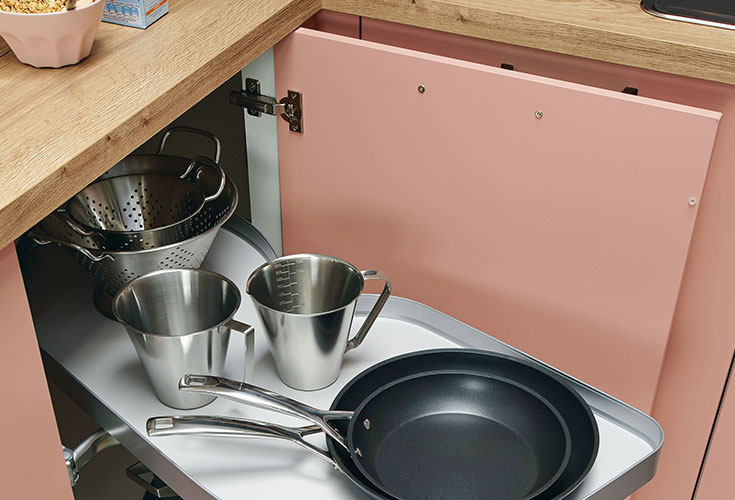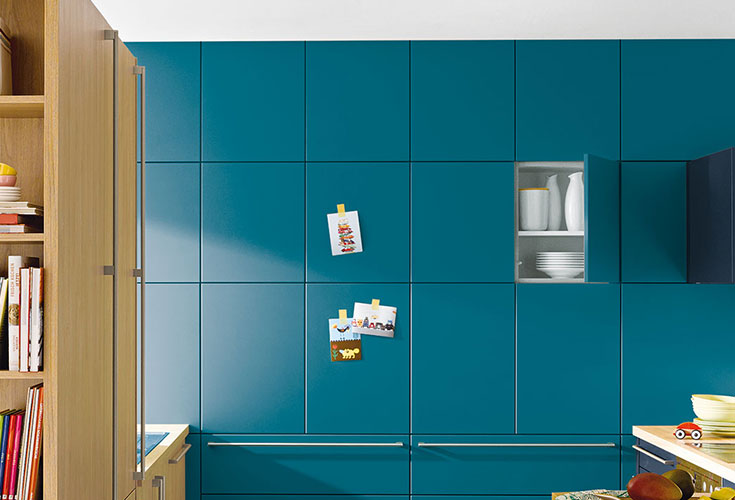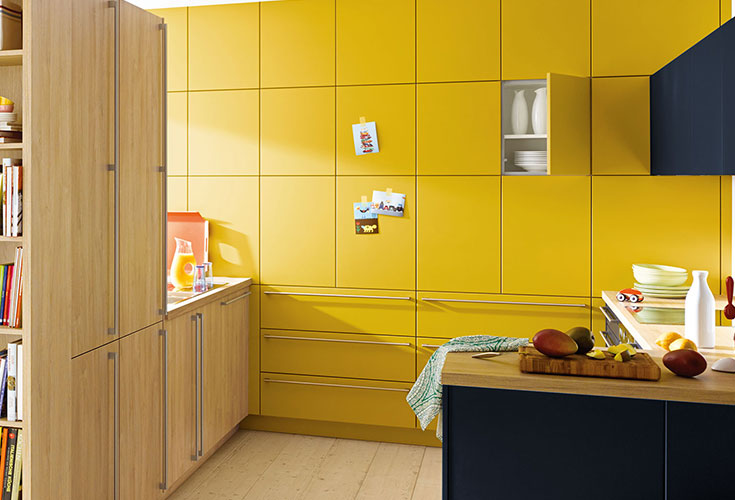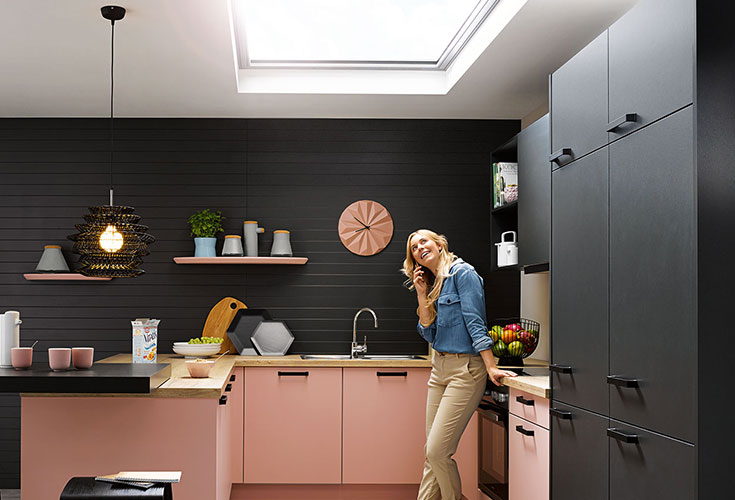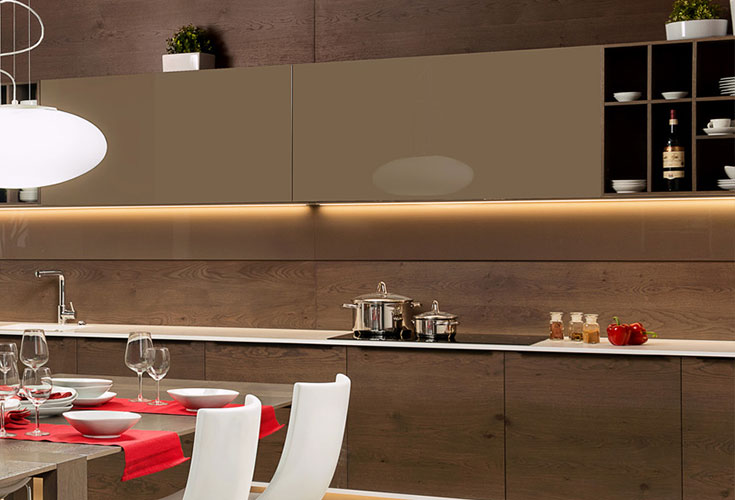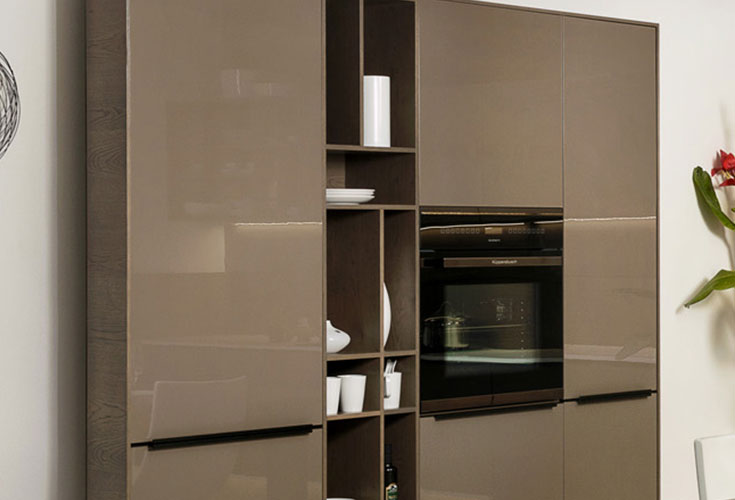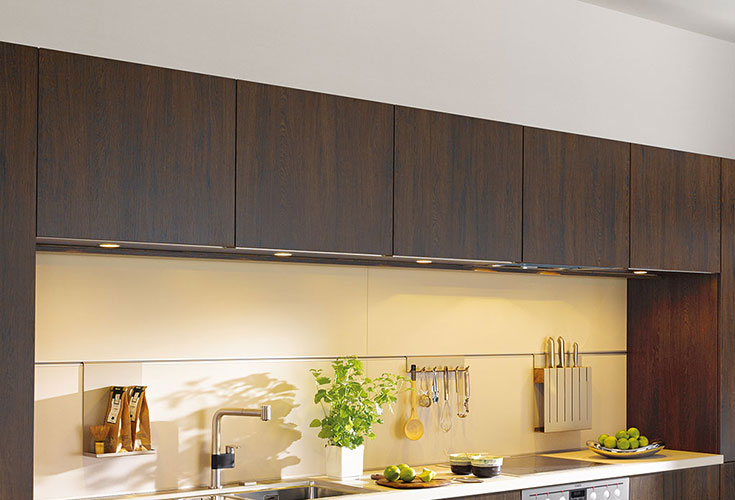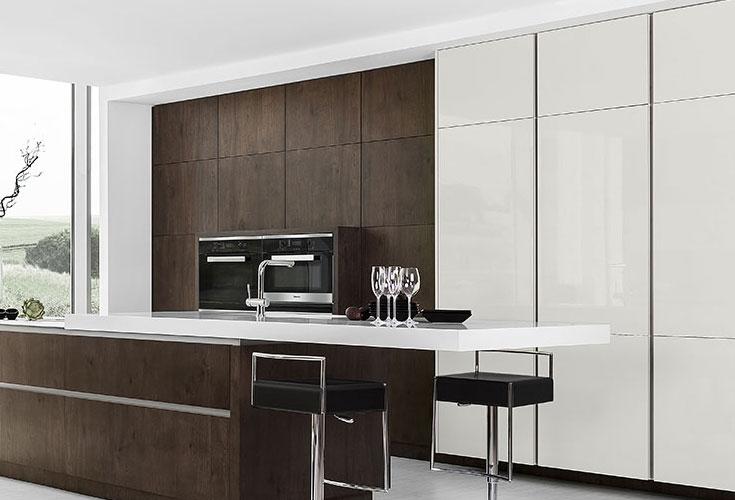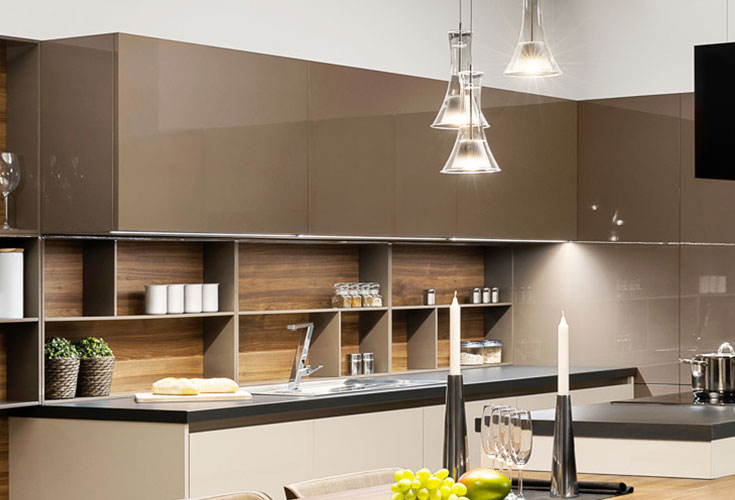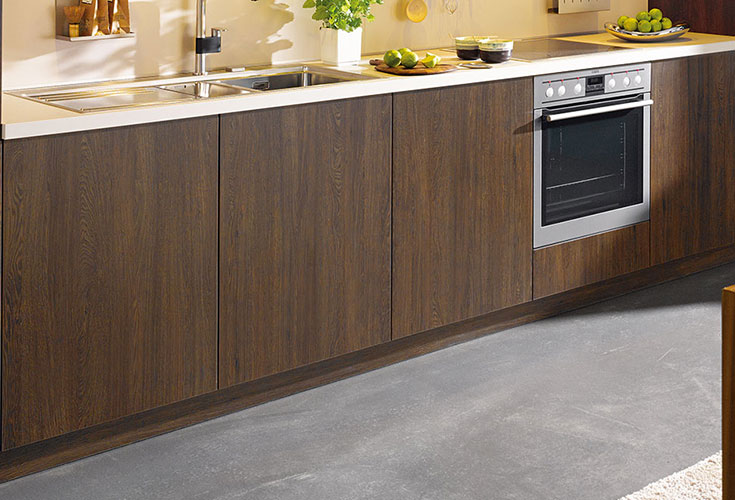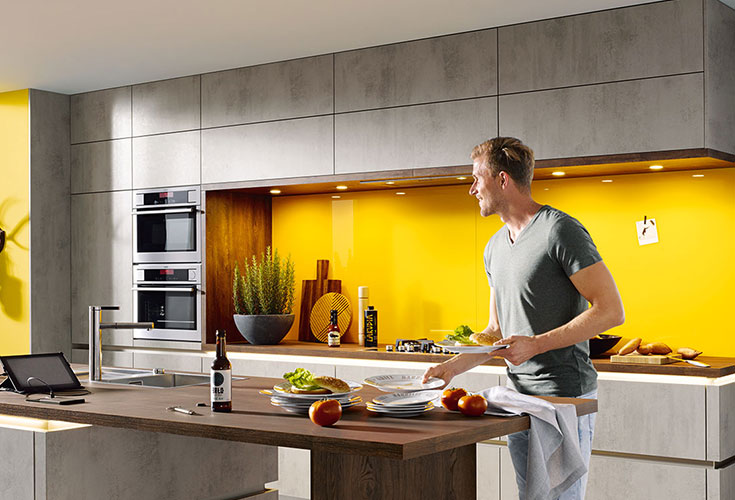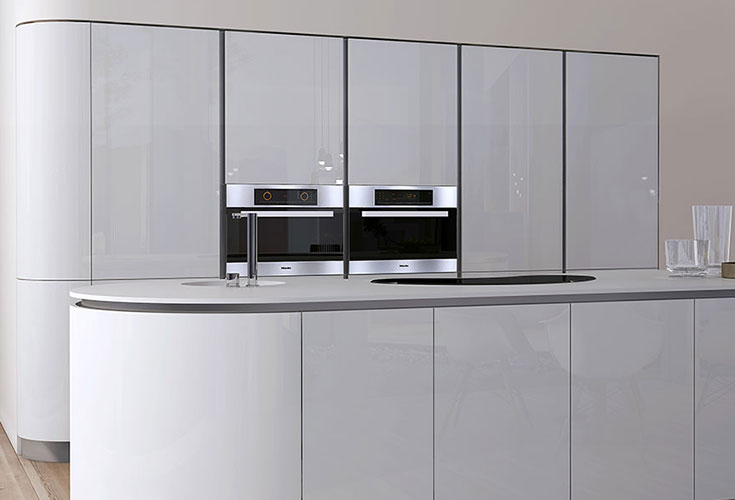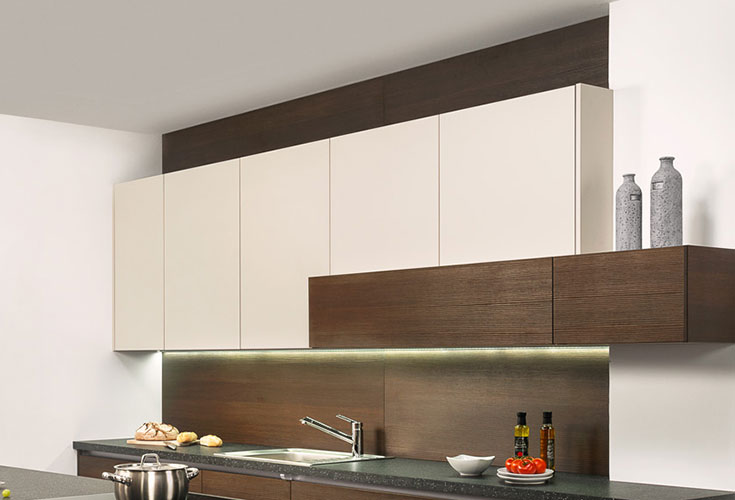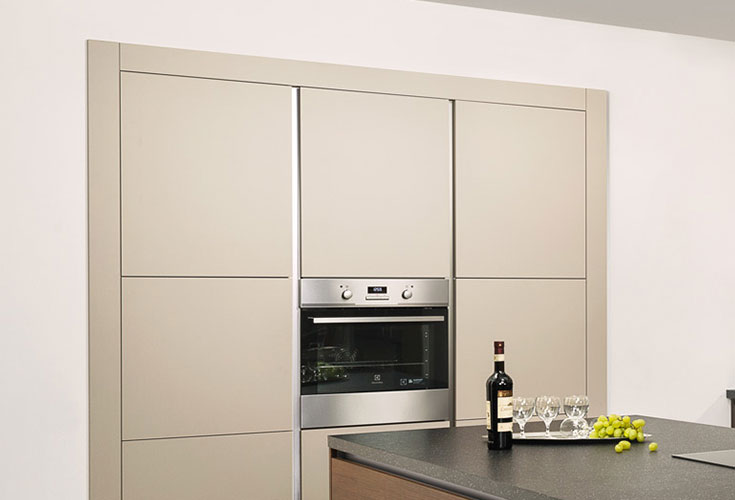 FAQ's
What is a modern kitchen?
Modern kitchens (also known as contemporary kitchens) are characterised by their clean, spacious, uncluttered look. They typically avoid having any unnecessary objects on display such as ornaments and will hide most kitchen appliances such as the refrigerator and dishwasher behind a cabinet door (known as "built-in appliances"). They also make great use of horizontal lines in the design, which makes the kitchen look much larger than it actually is. The cabinets have flat panel doors and are often handleless - adding a true sense of luxury to the heart of the home. Colours such as white, gray, red, yellow, blue and more are all common in these types of kitchen, but they can be personalised in any colour you'd like. Many trends come and go in the kitchen design world, clean minimalistic kitchens however are here to stay from 2023 till infinity.
What are modern kitchen colours?
White, blue, grey, yellow, red, orange, green and ivory are extremely popular modern kitchen colours. Most commonly, light colours are used throughout the design, however the modern style of kitchen is not limited to a set range of colours - any colour can be used. Speak to your kitchen designer about what you're trying to achieve with your new kitchen and let them figure out the right colour for you. For example, if you would like to make your kitchen area appear much larger than it actually is you may want to consider getting a white kitchen - as white reflects light and gives off a more spacious look than most other colours. If you are concerned about it looking too clinical, using a secondary colour or natural material such as wood can create a beautiful contrast that looks spacious and uncluttered while still looking homely.
What are modern kitchen cabinets?
Modern kitchen cabinets feature flat panel handleless doors that cover the entire cabinet frame. It is also common for appliances to be built into the cabinet and covered with a matching door to give the kitchen a clean and spacious look. They also typically feature pull-out drawers to make using your kitchen as easy as possible.
Take A Look At These Images
See a kitchen you like? Make sure you let us know your favourites!
Book a FREE Appointment Now
Kitchen Showrooms
Our kitchen showrooms across Essex, Suffolk and Kent feature a wide range of new modern kitchens for you to look at and interact with. Many people find it far easier to get a true sense of what it is they really want from a kitchen when they're in a showroom that's bursting full of kitchen inspiration. And so we advise you book a free appointment at your local modern kitchen showroom today. There's no obligation or high pressure sales tactics - just free friendly help from your local kitchen designers. We'll take you round our range of kitchens at your appointment and help you find that perfect kitchen for you!
Whether you know exactly what you want, or haven't got a clue - our appointments are here to help. Simply click on your nearest Bentons Kitchens showroom from the list below, book a free appointment at your earliest convenience and we'll show you round our latest kitchens!