Top 4 Reasons to Love Kitchen Islands
Kitchen Islands are a great addition to most kitchens and they're something we often get asked about in our kitchen showrooms, so we decided to put together an article answering some of the most common questions, and sharing our top 4 reasons you should have a Kitchen Island in your home.
But first, what is a Kitchen Island?
What is a Kitchen Island?
A Kitchen Island is a piece of freestanding furniture most commonly positioned in the middle of a kitchen. Kitchen Islands are a versatile piece of furniture and will often feature some of the following: seating areas, refrigerator drawers, storage areas, built-in appliances, hobs and more.
What's the difference between a Kitchen Island and a Peninsula?
A Kitchen Island is freestanding (not connected to the rest of the kitchen), whereas a peninsula is connected, usually forming a U-shaped kitchen. Peninsulas are often used as a divider between the kitchen and its adjacent room.
So, what are the advantages of having a Kitchen Island?
1. More space for amenities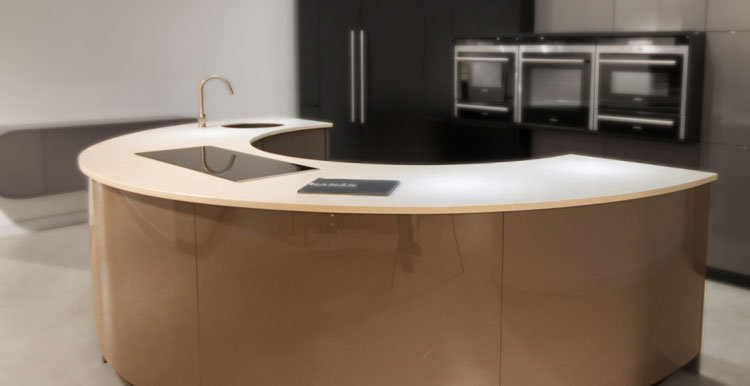 Opting for a Kitchen Island allows you to improve your kitchens functionality. You can have gas, electricity and plumbing hooked up to the island, making the possibilities endless. You'd be surprised at what you can get underneath the countertop of a Kitchen Island. Some of the most common amenities our customers have fitted are:
Preparation sinks
Refrigerator drawers
Hobs
Dishwashers
Ovens
Seating areas
Storage areas
2. More countertop space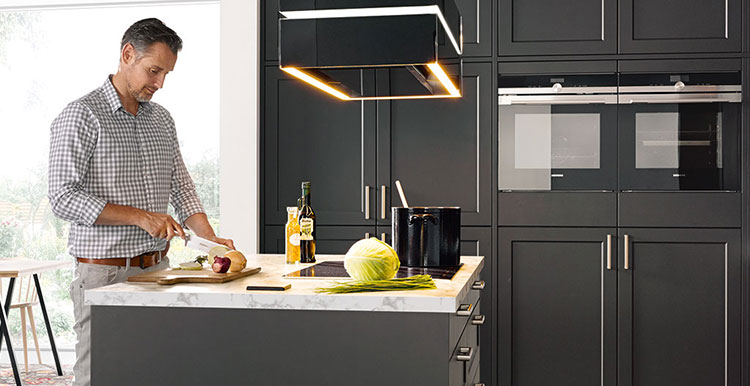 Whatever sized kitchen you have it's often difficult to find counter space when you need it. Often times the problem is that the kitchen has so many useful appliances, there isn't as much countertop space as you'd like for prepping food. This is one of the big advantages to having a Kitchen Island as it gives you more space to prepare food without feeling restricted. The space can also be easily converted into a great place to serve food.
3. More storage area
One of the main reasons people opt for having a Kitchen Island is the extra storage options they bring with them. You can easily add more cabinet space under the counter for extra drawers and shelves as well as rubbish bins, recycling canisters and more. Kitchen Islands are a great place to store anything you need an easy to access space for.
4. Additional seating area
Another popular option is adding an additional seating area to one side of the Kitchen Island. It can be used as a welcoming place for people to sit whilst food is being cooked or a place for people to hang out whilst you are entertaining.
If you are low on space, having a seating area on your Kitchen Island can also save space in your kitchen. You often won't need a kitchen table as well as a seating area on your Kitchen Island. Whatever you use it for – extra seating is always a bonus!
Frequently Asked Questions
What is considered a kitchen island?
A kitchen island is a freestanding cabinet that's commonly used as: an informal dining area, extra seating for guests, food preparation station and more. To be considered a true kitchen island, the cabinet must be freestanding and not connected to the rest of the kitchen. If it was, it would be a peninsula.
What is the point of a kitchen island?
Kitchen islands have a variety of uses, including: providing additional seating while entertaining guests, a more relaxed dining area, a place to prepare food and can even have integrated appliances such as a stove for cooking.
Are kitchen islands a fad?
Kitchen islands are not a fad, they've been popular since the 80s and they're only growing in popularity as the years go by. Here's a Google Trends report showing interest in the term "kitchen island" since 2004 in the UK.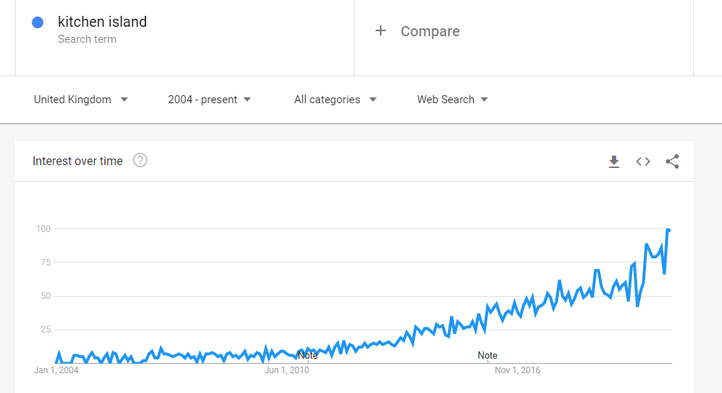 As you can see, interest for kitchen islands is currently at an all-time high.
Are kitchen islands worth it?
Kitchen islands are worth investing in if your family spends a lot of time in the kitchen. Whether that's preparing food, entertaining guests or dining under less formal conditions. They also provide your kitchen with more storage space, which can help create a less cluttered look and feel for your home.