What is a Kitchen Larder (and why are in love with them again)
A kitchen larder is fast becoming a staple in our kitchens. A kitchen essential from times gone by and now the perfect addition to any kitchen. But what is a larder? why has it made such a comeback? and how does it benefit your kitchen?
A larder is essentially a place in your kitchen designed to keep perishable foods' cool. This is achieved by the larders use of cold materials such as a slab of marble or slate.
It can be designed to work in any kitchen, big or small and comes in many different forms to suit any kitchen.
What is the difference between a Larder and a Pantry
What is a Pantry
A pantry is a place where you can store food that last the test of time, such as preserves, tinned food, dried pasta, cereals, flour and such like.
They are generally positioned adjacent to the kitchen. The main use of a pantry is storing food that will last a long time.
What is a Larder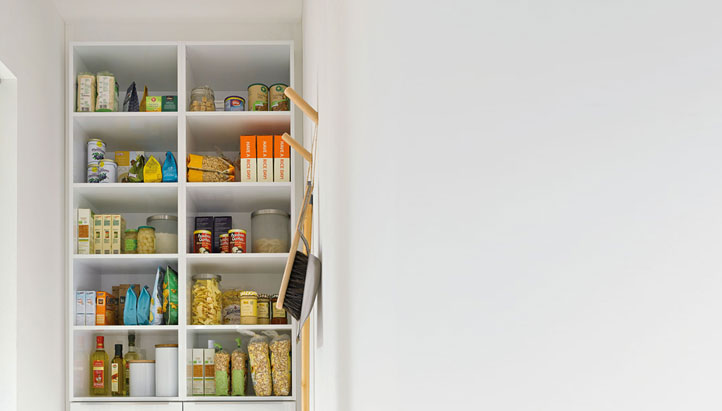 A larder, in contrast, is the perfect place to keep food in your kitchen before you want to use it. Essentially, a cool area to store food that is likely to 'go- off' and is best not put in the fridge. These would be foods like eggs, onions, garlic, courgettes, tomatoes, etc.
We'll talk about the benefits of using a kitchen larder to keep these types of food rather than a fridge, later.
You'd be surprised and it may change your view on how you store food in your kitchen.
The history of a larder
So, now we know what a larder is and how it differs from a Pantry. But, how has it made a come-back from its' humble beginnings as the ultimate kitchen accessory?
The word 'Larder' derives from the old French phrase 'Ladier', meaning a 'place for meats'. This comes from the Latin phrase 'lardum', which means 'lard and cured pork'.
In days gone by, rich folk would store: meats, game, salted fish and such in barrels and cover with lard, whilst more simple folk had cold storage rooms or meat safes.
Over the years, with food becoming more easily accessible and the arrival of food deliveries, this type of food storage became more and more unnecessary, and so as a result of this, the more recognisable cold store room was born; the Pantry. And in turn, the larder. A smaller, more convenient take on what was a cold storage room.
But it doesn't end there. Technology, it seemed saw the death of the kitchen larder, with the introduction of the domestic fridge and freezer laying the humble larder to rest. We had moved on, and the fridge was the ultimate food storage for us all.
Wrong.
Nostalgia wins the day. We cannot resist the notion of magical cupboards filled with fresh vegetables, cheese, fruit, bread and cakes. We want to use the farmers markets, grow our own produce, entertain and get the best flavours from our food.
We want our heritage embedded into our kitchens, we want to feel like we are giving something back to the world with electric-free, 'green' kitchens. We simply don't want to let go of the past. Our grandmothers' grandmother would be proud!
As a result, more than half of kitchen installations today in the UK incorporate a larder. In fact, for many kitchen designers, a kitchen larder is at the top of the 'must-have' list for newly designed kitchens.
Why have a larder, when you have a fridge?
This is where the kitchen larder offers benefits over and above the fridge.
Certain foods need to be kept at temperatures not obtainable in a fridge in order to be at their best.
Cheese is best kept at around 9°C
Bananas go black in a fridge
Avocados do not ripen in a fridge
Tomatoes and strawberries get 'too-cold' and lose their flavour in a fridge
And that's not all, vegetables such as: onions, mushrooms, peppers, carrots and potatoes must be kept in a cool dark place – A larder.
Eggs too – Whilst the Food Standards Agency maintain eggs are best kept in a fridge, there are many 'foodies' out there who would strongly disagree. Stating they should be served at room temperature, as the quality of the whites are degraded and the porous eggshells take on the flavour of other closely-stored stored foods around it.
And so, it becomes apparent that there are many foods that should not be thrust into 'more aggressive' cold temperatures found in a fridge, losing their moisture and ability to taste as they should.
The larder is the perfect kitchen companion. A Garde-Manger (keeper of food). Its sole purpose is to keep our perishable food, both cooked and raw – in its perfect state. Ready for use in cooking or to be served at will. And in this purpose, it excels.
Which kitchen styles suit Larders?
A key point that is often misunderstood when to comes to larders, is that you don't need to have a enormous room to house it. Larders can be as big or small your kitchen requires. And because they can come in custom shapes and sizes, a larder can be incorporated into almost any kitchen design to fill the space that's available.
A kitchen larder was most commonly found in traditional kitchens, however as their popularity grew (and more people learned about their benefits), they have started to become commonplace in contemporary kitchen design, as well as shaker kitchen design as they can be integrated seamlessly into your kitchen cabinetry.
The larder could become the focal point of your kitchen, for example when placed in amongst granite or marble worktops it creates a fantastic baking area as well as a baker's cupboard for storing breads, cakes and pastries.
Now the way these larders are built is completely up to your preference. Some people love to have a wonderful array of food hidden behind Contemporary kitchen glass doors. Others like to have stylish Shaker kitchen doors. Whilst others prefer Traditional kitchen bi-fold doors that open up to a magnificent space of shelves, wire racks and pull-out drawers over and above a deliciously cool slab of marble.
People will often add lighting to the interior of their larder to really make the most of the space.
With a larder, everything is hand for the perfect preparation of your food and is stored how it is meant to be.
The key benefits of having a larder in your kitchen
So now that we've gone through the facts on kitchen larders, here is a quick summery to wrap it all up.
It's the perfect storage area for your food
Many Foods taste better when stored in a Larder
Certain foods last longer when stored in a Larder
They can be incorporated into any Kitchen design
They can be designed to fit into any sized kitchen
Larders allow for a 'greener' kitchen
They fulfill our nostalgic need and take us back to our traditional methods of storing food
They can be the focal part of any kitchen
Larders change the way we can store food allowing us to get the most out of our kitchen